· · · · · · · · · · · · ·
· · · · · · · · · · · · ·
For table reservations for today please use the phone numbers of the pubs (on the bottom of this page) so that we can respond promtly. If you reserve for tomorrow or later you can also call or use this form to place the reservation. Online reservations are only valid, if they are confirmed by email. Thank you, we are looking forward to your visit!
Choose a pointer pub to start your reservation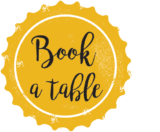 we value your privacy. Data provided during table reservation will only be used for the purpose of the table reservation handling, including communication (phone and email). We dont store this data, don't use it for any other purpose and don't disclose it to any third party.